CCAs (Child Care Assistants) are teens (entering ninth grade or older in the fall) who are willing to care for children of families on the Family Camp weekends at Whispering Winds. The CCAs take care of children 5 years old and younger. They assist in the children's programs, camp activities and care for guests' children at designated times throughout the weekend. Our goal is to make each family feel special and for young ones to enjoy a familiar face while parents go to sessions.
Participation is first-come, first-served. Registration instructions:
Make your online payment
This will reserve your spot, but not guarantee it. You may sign up for only one weekend at this time. Other weekends may be available and will be discussed at the meeting.
Fill out online waiver
Fill out online medical release
Print and fill out CCA contract
Attend one orientation meeting (dates below) & turn in printed CCA contract
The CCA Experience Includes:
Lodging for 3 days + 3 nights (Thursday evening – Sunday 5 p.m.)
Eight delicious meals, plus teen snacks
Supervision and direction by a Catholic staff member/CCA Coordinator
Evening Teen Program for three nights with worship music and teen message directed by a dynamic Catholic Teen Director
CCA uniform Family Camp T-shirt
Use of the Zipline, Swimming Pool and the rest of camp amenities!
Opportunity to Earn 30 Service Hours
Read about these youths' experiences as a CCAs!
2018 Family Camp Dates:
FC1 – Thursday, June 14 — Sunday, June 17 – Military Family Camp – Sacred Heart Coronado, St. Therese
FC2 – Thursday, June 21 — Sunday, June 24 – St. Gregory the Great, St. James, Immaculata
FC3 – Thursday, July 12 — Sunday, July 15 – Blessed Sacrament, Santa Sophia, St. Michael's Poway, St. Rita of Cascia
FC4 – Thursday, July 19 — Sunday, July 22 — Special Needs Family Camp
Details:
Adults from the Family Camp staff will provide supervision. The female CCAs will be lodged in a separate Dormitory building than the male CCAs. CCAs need to provide their own transportation to and from camp.
Cost per CCA for 2018 is $150 and payment is due in full at time of on-line registration. Finances should not keep any teen from attending Family Camp. Scholarships are available. Contact Paula Bott at paula@whisperingwinds.org.
For cancellations, only 50% payment will be refunded after June 1. There is no refund two weeks prior to camp.
If a family registering for Family Camp has a child who will be a Child Care Assistant, please just register him/her with your family as a regular family member. There will be no additional charge for being a CCA. CCA/parent meeting attendance and documents are still required.
Orientation Meeting
ALL CCAs and their PARENT/GUARDIAN MUST ATTEND AN ORIENTATION MEETING.
You may choose any meeting date regardless of what parish you are from. You may not attend with a friend and his/her parent, you must have your parent or guardian at one meeting. Please bring your completed "CCA contract" (see link above).
2018 CCA & Parent/guardian meeting dates coming soon.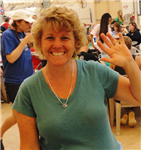 For more information, please contact CCA coordinator Laurie Mikolaycik at 619-820-5028 or laurie@whisperingwinds.org.
Frequently Asked Questions
Do I have to stay the whole weekend?
Yes, all CCAs must commit to the entire weekend and be able to arrive at the designated time. This is crucial to the success of our program, and there are no exceptions.
How do I get my service hours?
When you depart camp, you will check out with the CCA coordinator who will give you your signed, Whispering Winds letter of service on the spot. Any additional school forms that you need to have filled out are the responsibility of the CCA and must be given to the CCA coordinator with your part filled out entirely before camp or on the day you arrive.
Can I earn environmental service hours?
There are plenty of opportunities available for environmental service hours, including recycling, planting and gardening, camp clean up, etc. Please make note on your registration paperwork of your need for these special hours and also let the CCA coordinator know as well.
Is the orientation necessary even if I have already served as a CCA in summers past?
Yes! All CCAs must attend the meeting with a parent or guardian in order to serve as a CCA every year. Another CCA's parent cannot act as your representative – it must be your own parent or guardian!
Can I work more than one weekend?
Possibly, but only if we have available space for you. Due to the limited lodging for our teen volunteers, we must first accommodate everyone for one weekend.
What if I don't have much experience with kids?
Not to worry! We will make sure that you get a job that you are comfortable with while at camp. We have many spots for CCAs, including having your own child ("buddy") to care for at specified times, camp clean-up and beautification, assisting staff working the zipline, snack shack, etc., and helping with programs such as art and crafts, outdoor games, Bible lessons, etc. While all of our CCAs will assist with the kids of our families in some capacity, the ages of our children and the volunteer jobs possible vary greatly. Also, the CCA coordinator is available 24/7 to help you if you should need it, and each camp activity has an adult volunteer or staff member present to supervise at all times.
Do I get any free time?
Yes, all CCAs will have staggered breaks on Saturday beginning after lunch and lasting until dinner.
In the evenings on Friday and Saturday, after the adult/family programs, we have provided a teen program with a teen director especially for you! You will also be able to enjoy the pool, zipline, climbing wall and all other camp amenities.